Limit, the story...
Little foreword here: I'm not that great of a writer and my
English isn't that good either so forgive me
if there are any faults (you can always let me know..)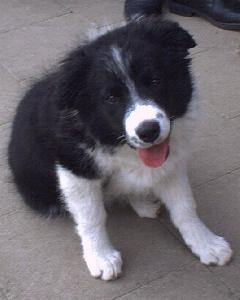 From Belgium to the Netherlands,
back to Belgium and now of to Italy...
This page gives the story of Limit (Apancho Of Xilver Highland),
the little guy, who has a special place in my heart!
so I thought I'll share the story with you all.
He was born 22 februari 2001, was so small,
you almost couldn't see him between all of his
sisters and brothers (7). From the first minute I held him in my arms
I was totaly crazy 'bout him.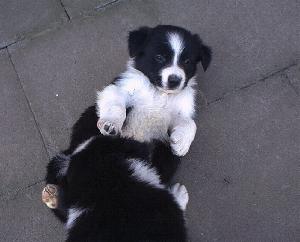 that little pup fighting for his life, fighting for the mother's milk.
he was a very active and spirited boy.
He was the first who opened his eyes and the first to walk,
he was always one step ahead of the others.
I was thinking, wow, he will grow up to be a very dominant dog...
I just want to keep him to myself, but then again,
I already had so many dogs,
I can't keep all of them, so with pain in my heart I let him go.
I was in a terrible mood for days...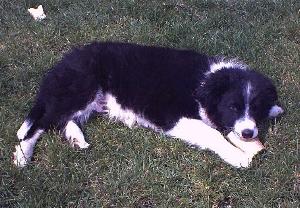 he went to the Netherlands, a family with 3 little children.
wasn't expecting real trouble though,
I watched him here with children and everything was fine,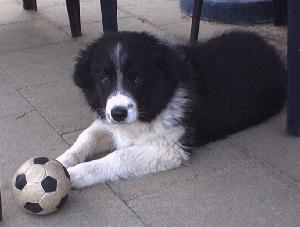 he was really sweet...
but after a few weeks they phoned me.
He was herding the kids around the garden and they didn't
like that so they asked me to take him back.
(yeah well, probably he thought they were little sheeps eh)
Oh my God, my heart was beating overtime there, I thought, this must be fate..
he's coming back to Belgium...back to me...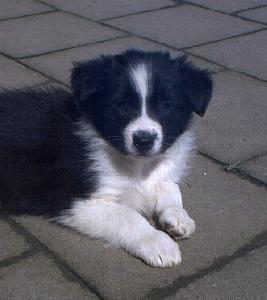 I was totally stressed up by the time they arrived here with Limit,
I just burst into tears (again...I'm a bit too sensitive I think)
everyone loved him,
but still, when my mother came to visit,
she said, you can't keep him, really, he's such a cute one,
but you've already got enough male ones.
well, suppose she's right so I put him on the internet in search for a new good home.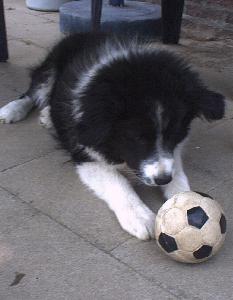 well, in the back of my mind, I probably thought (and hoped) that he would stay.
But then I got a mail from Italy, from Dorothy,
she was looking for a friend for Carter,
their border collie pup (the same age as Limit)
and asked if she could visit me together with Iain (her boyfriend) and Carter.
oh yeah of course you can, no problem (I was actually shivering)
I was thinking, Italy? are they crazy?
coming to Belgium for a border Collie?
I now know that they have friends over at Belgium,
they actually lived here for 3 years.
well, after a few mails I began to know them better
(thanks to the computer)
so I was looking forward to meet them.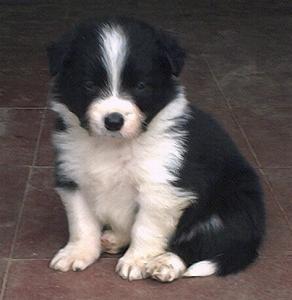 but then again, when they liked Limit
and when he was acting good together with Carter,
they would take him back to Italy
and I would probably never see him again.
(there I went again...)
so, yesterday, they came to visit me and Limit.
and he and Carter were getting along just fine
so by now I think he' s in the car with Dorothy, Iain and Carter (his new family)
driving to Italy.
I'm really happy that I found such a great home for him,
together with his new mate Carter..
hope they still will get along fine in a year...
anyway, they promised me to send some photos
and when they're in Belgium,
they'll come and visit me with Limit. (yeeehaaaa)
I will publish the pictures later,
and I'll update this when I hear something from Italy
hope he's doing well...
so Dorothy and Iain, if you read this, give him a big hug from me will ya?
I wish you good luck and a lot of fun with Limit, I really miss him...
Ilse
_____________________________________________________
Glad to let you know that Limit's doing just fine, he's now called Lewis.
and he's having the time of his live, like you can see on the next page,
there are lots of picture from Italy (when I see the lakes and the mountains,
I get a little jealous!) Thanks Dorothy and Iain for the pictures!